About Us
Jagriti Yatra is an ambitious train journey of discovery and transformation that takes hundreds of India's highly motivated youth, from all over India and world, on a 15 day, 8000 km national odyssey to meet the role models - social and business entrepreneurs - of the country. The vision of Jagriti is 'building India through enterprise'.
Jagriti Yatra is a confluence of change-makers, leaders, problem-solvers and innovators. It focuses on the themes of Agriculture, Health, Technology, Handicraft and Apparel, Women Empowerment and Urbanization and interlinking entrepreneurship with nation-building.
AXIS OF LEARNING
Join us for a wide-range of experiences to foster,
nurture and actualize the spirit of entrepreneurship
Engage with Inspiring Minds
Peer to Peer Leaning
Meet an eclectic group of inspiring Yatris from all across India through our curated discussions and activities. Listen to their stories of enterprise, exchange ideas, create case studies, and collaborate on impactful projects.
Create Your Own Business Plan
Biz Gyan Tree
A competition for the Yatris to create business plans addressing the challenges of Middle India under the expert guidance of our mentors. Pitch your ideas to a jury, and get support through our incubation.
Immerse in Sector Solutions
Panel Discussions
A forum for interaction with some of the most renowned personalities from a range of high-impact fields in our chosen sectors, engaging participants in discussions of a broader national importance.
Learn from the Best Entrepreneurs
Role Model Sessions
An immersive discourse with 12 iconic enterprises and the people behind them. Chosen for exceeding benchmarks and setting standards of excellence, these organizations are simultaneously leaving a measurable impact on the communities they serve and the nation at large.
A Expo of Enterprises
Jagriti Enterprise Mela
Jagriti Enterprise Mela is designed to be a festival of enterprises. A expo of innovative enterprises that are working across rural and semi-urban geographies with significant traction and impact, all with a vision to build a better
BENEFITS OF THE YATRA
Understand The India Beyond Metros
Travel with the most diverse group and meet the top-notch entrepreneurs to understand about building Bharat
Build Your Idea As You Travel
Jagriti Yatra is a experiential programme and specially designed activities helps you to ideate, validate, create and grow your entreprise in tier 2 & 3 districts of India.
Get Incubated To Build Your Enterprise
Market access, mentorship, and connect to investors - our well-designed incubation program to convert your idea into a reality.
Membership To An Ever Growing Network
Get access to one of the India's biggest networks of entrepreneurs, mentors and investors, and to our exciting events, workshops, and conferences.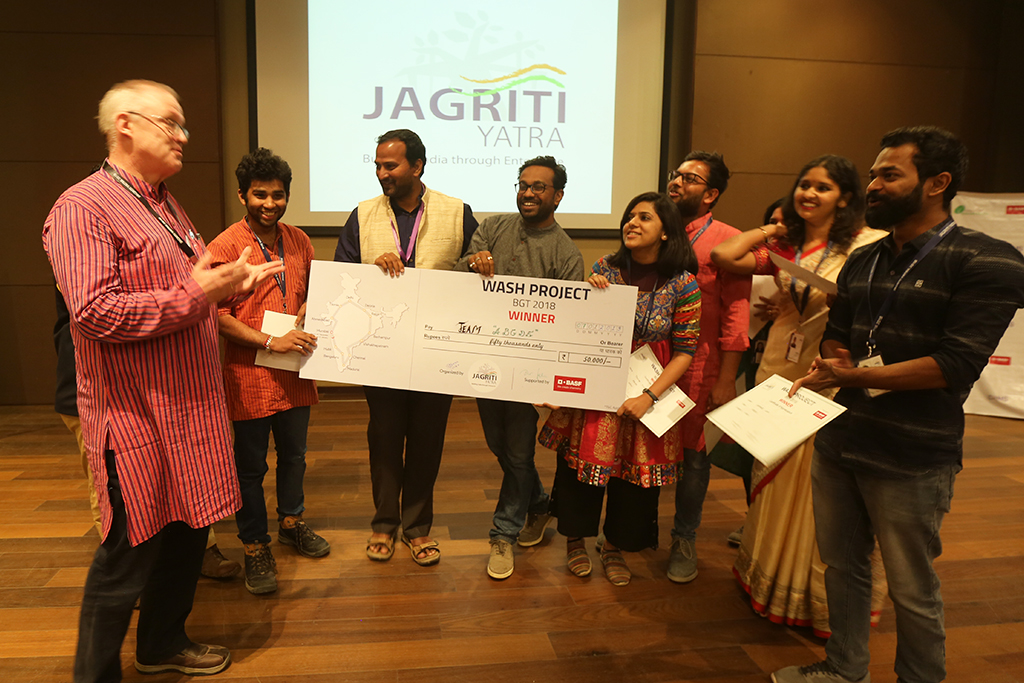 Impact Summary
Jagriti Yatra has been executed successfully since 2008 and has impacted the lives of more than 7000+ Yatris till 2021 yatra
Total number of Yatris
7000+ | Youth trained through Jagriti Yatra
Enterprises Created
28% Entrepreneurs | These 28% turned into entrepreneurs after participating in the Jagriti Yatra
41% Entrepreneurs | 41% of these enterprises have completed 3 years and are in the scale-up phase.
Influence of the Yatra
10% respondents | 10% of the respondents consider the Yatra as a "significant influence" in their personal & professional lives.
The Yatra has had an above average impact on the decision making & communication skills, and the overall confidence of the Yatris.
Effectiveness of Jagriti Yatra Network
89% Yatris | 89% of the Yatris found the Jagriti Yatra Network to be above average.
Nature of Enterprises
83% | For-profit enterprises 17% | Non-profit enterprises
For-profit enterprises
62% Enterprises | have a team size of around 10 people.
73% Entrepreneurs | Reported an annual turnover of over Rs. 10 lakhs.
Not-for-profit enterprises.
20% Enterprises of the not-for-profit enterprises have more than 30 members on their team.
47% Enterprises of the not-for-profit enterprises are funded by family and friends,
27% Enterprises of the not-for-profits have received funding from the government or CSR &institutional agencies, or both.
This is summerised exctract from an independent evaluation report by Impactree in 2016.

Anshu Gupta
Founder, Goonj
Bringing about behavioural and thought level changes in people is quite a challenging job. In Jagriti Yatra the impact is massive and deep. We at GOONJ have seen this first hand with the Yatris. There is a vast change in their vision, thoughts and behaviour after the Yatra. The Jagriti Yatra, to me is a source of energy and inspiration, from the brightest 500 youth from all over the country.
Vidyut Varkhedkar
2014 Yatri
Yatra has been a moment of inspiration for many, but Vidyut Varkhedkar, had a life-changing experience when she boarded the Jagriti Yatra train, in 2014. For her, it was the moment that defined her calling, and she couldn't just keep it to herself and decided to write a book on her experience.
Soonrita Sahasrabuddhe
2008 Yatri
I don't feel alone anymore — I am no longer the odd one out. I am connected to a sea of young India that is positive, enterprising and ethical.
Dr R A Mashelkar
Padmashree
The opportunity to meet the young yatris of Jagriti Yatra was unquestionably a high point in my life. I was expected to inspire them, but it was the other way round, they inspired me! Our interaction was so energizing and so fulfilling!!
Nandini Vaidyanathan
Founder, Startups
Everybody has a 'wow' moment and if one is lucky, several of them during a lifetime. I am possibly one of the few really privileged ones who meets amazing people literally most days of the year, which means I have a treasure chest of wow moments.
Chetna Sinha
Founder Mann Deshi Bank & Mann Deshi Foundation
When I participated in Jagriti Yatra, it reminded me my youth days when we were in Gandhian Movement. Yatra was full of passion, energy and cheer. Jagriti Yatra is revolutionizing the youths of India by giving them exposure of positive India where aspirations and dreams of poor become true.
Technology Partner